It's Presidents' Day here in the States, when we remember the diverse crew of white guys who've clawed their way to the Oval Office over the last two hundred odd years by going to the President' Day Sales and buying a new barbecue.
What better way to honour their memory than to invoke the spirit of democracy, and have everyone vote on some outrageously slanted and unscientific questions. And so I am proud to introduce The Prezzies™, whereby we subject the forty one US chief executives up until 1992 to the same kind of dispassionate and considered analysis as Celebrity Big Brother.
Anyone who picked up on the 1992 cut-off will have guessed the one ground rule upon which I am sadly forced to insist for the sake of harmony in our little online community: The current President and his immediate predecessor are not eligible for nomination in any category. This is partly because insufficient time has been allowed for posterity to do its work on either of them, but more importantly the temptation to be lazy and stick with cheap-shot topicality would be overwhelming, and that would stifle our undoubted creativity. If we could just stay in our comfort zones, who would ever think to mention how Grover Cleveland started a war to distract attention from one of his sex scandals, or how Ulysses S Grant was accused of shamelessly derailing investigations into his alleged property scams.
Come to think of it, that was actually Clinton both times. But that just proves my point, and I'm sure we all agree that the principle is a sound one.
So let's start with a real soft-n-easy under-arm pitch: Best President (1900 - 1992). I know it breaks the habit of a lifetime to ask you cynical creatures to think positively for a change, but I'm sure it'll do you good.
Nominations and reasons in the comments, please – results tomorrow assuming anyone bothers to vote…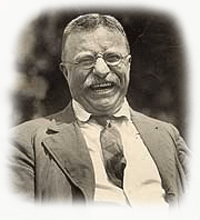 Teddy Roosevelt, yesterday. Will he get his due this time, or will his slimy cousin steal the limelight yet again?