Mixed emotions accompany our latest little milestone, as we pass the 20,000 mark in terms of hits:
Domain Name gov.au ? (Australia)
IP Address 203.10.224.# (Australian Department of Defence)
ISP Australian Department of Defence
Location Continent : Oceania/Australasia
Country : Australia (Facts)
State/Region : Australian Capital Territory
City : Canberra
Lat/Long : -35.2833, 149.2167 (Map)

Referring URL http://diesirae.blog...ld-dads-hatband.html
Visit Entry Page http://diesirae.blogspot.com/
Visit Exit Page http://diesirae.blog...iesirae_archive.html
Out Click unwept, unhonored, and unsung - http://journals.aol....ppleaDay/entries/511
Time Zone UTC+9:00
Visitor's Time Jul 31 2006 5:15:28 pm
Visit Number 20,000
Department of Defence? I wonder what key words I managed to trigger. The post mentions gays, but this is the
Australian
DoD we're talking about here, not the British one, so that can't be it.
Anyway, they obviously have time on their hands down there, as once in our mystery guest was in no hurry to leave…
Time of Visit Jul 31 2006 3:15:28 am
Last Page View Jul 31 2006 3:26:52 am
Visit Length 11 minutes 24 seconds
Page Views 2
Your tax dollars at work.
Far be it for me to begrudge anyone their little break. At least Defence is a department with a real purpose in life, unlike those wastrels at Education or Health. So, many happy returns, whoever you are - you have taken us a small yet significant step further in our journey, and we salute you for it!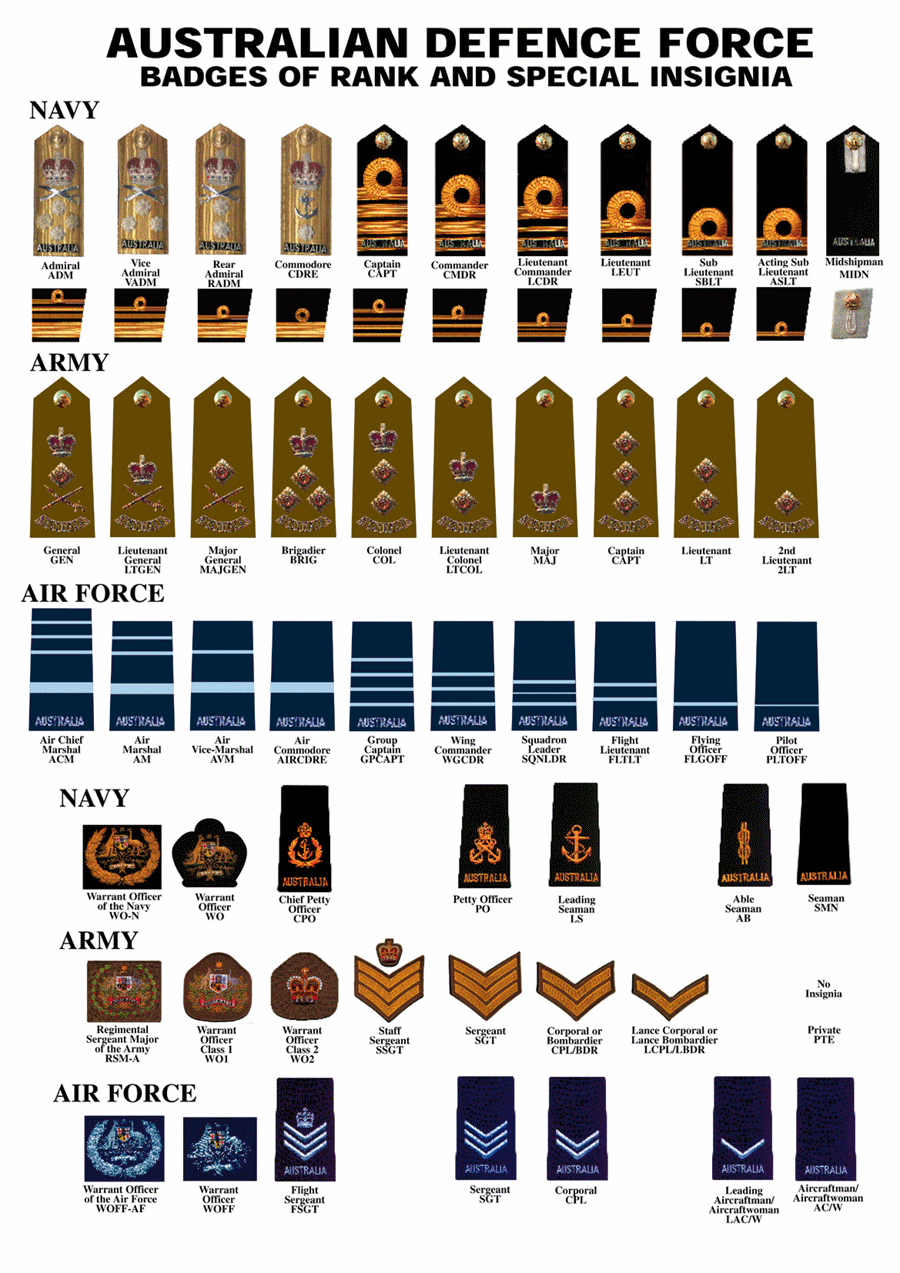 The ranks and insignia of the Australian Defence Forces, yesterday. Apparently this blog is now an honorary Seaman, tho' I may have misheard…